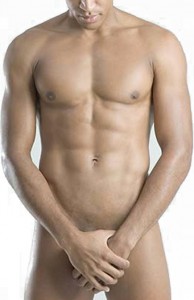 Why would anyone want to submit to something as intimate and somewhat uncomfortable as a Male Brazilian Waxing treatment? There are several very good reasons why waxing the genital area for hair removal is beneficial.
Wax removes hair follicles at the root level. As a result, there is no unsightly stubble and no ingrown hairs. It also takes longer for hair to grow again.
Hair regrowth is actually downy and very soft after waxing, so you don't experience the itchiness that shaving with a razor can cause.
Brazilian waxing frees you from nicks, cuts and irritated skin.
Using a razor requires constant maintenance. However, with each waxing treatment, the hair comes in finer and sparser so waxing treatments are fewer and farther between.
By the third waxing (performed every 4 weeks), you'll really start to notice a difference in the slower regrowth and the lessening of the treatment discomfort.
Because the scrotum area is a naturally warm part of the body, pubic hair removal makes men feel cleaner.
You can wear a Speedo®, without any worries of unruly sprouting hairs.
And, saving the best for last – some spouses and significant others find the hairless, smooth genital area very sexy.
NOTE: Some men fear getting aroused during the process. It's not common, but it can happen because of an adrenal reaction experienced mostly by first-timers.
Our estheticians are experienced professionals and should this occur, they will just continue going about their business. The underlying understanding is that we treat you with respect and expect the same in return.
We think Male Brazilian Waxing is the perfect hair removal treatment for men who want to be free from the hazards of using a razor in that most delicate part of the anatomy. It's fast, effective and very affordable.
Contact us now to schedule an appointment.
Click Here